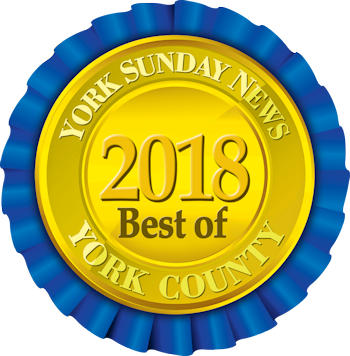 We are certainly humbled and honored to be voted #1 Best of York Fencing Contractor for 2018.
We thought this would be a fine time to remind you that – when it comes to fencing – no job is too large or too small here at Security Fence Company. We offer all types of fencing – from chain link and PVC to aluminum ornamental and custom wood fence products. Of course, we also have a variety of kennels for pet owners and a supply of temporary construction fence for use by the building trades.
Chain Link Fence
For residential, industrial, commercial and government uses, a chain link fence is still the most practical and economical enclosure found.
Available in hot-dipped galvanized steel, aluminumized steel, or vinyl coated in colors, chain link fencing stands guard 24 hours a day.
PVC /fence
Security Fence Company/PVC custom manufactures over 30 different styles of PVC fence materials that carry a written lifetime warranty.
SFC/PVC extrusions are available in standard virgin vinyl for the safe and secure containment of livestock. We also offer a lightweight product which is identical in appearance but is much more cost effective for landscaping or property line applications where large animals will not contact the fence.
Aluminum Ornamental Fence
The traditional, lasting beauty of ornamental fence not only secures your property but enhances it.
Our aluminum ornamental fence is available in many styles, colors and sizes and can be supplied in residential, industrial and commercial grade to meet your fencing needs.
SFC aluminum fence is assembled in Red Lion, PA, with the strictest quality control measures available in the industry.
Custom Wood Fence
Custom wood fencing for your home or business from Security Fence Company can add natural beauty to your property. Our wood fence is available in several styles including split-rail, shadowbox and privacy.
The environmentally friendly MCA wood preservative is manufactured with minimal carbon footprint and provides superior performance.
Temporary Construction Fence
Security Fence Company offers temporary fencing - construction fences for construction sites and other locations requiring temporary barriers. They feature welded galvanized framework, with tension bands and tension bars designed to hold galvanized fabric tight to framework. Fabric is tied to framework with 9 gauge aluminum ties. Sturdy panel stands are included with temporary fences.
Special size, height and width panels are available. Whether for construction sites or other temporary uses, fence panels can be swung open for access, or special size gates are available. Panels clamp together at top.
Dog Kennels
Since 1972, Security Fence Company has provided Dog and Pet Kennels. Durable construction, quality manufacturing and ease of use makes our dog and pet kennels the best in the industry.
SFC Dog and Pet Kennels can be setup quickly and easily moved, stored or expanded. Their unique latching makes them exceptionally secure. Their chain link welded construction offers strength and durability. They are built to last, and they keep their value for re-sale.
We have served the York County community and surrounding area since 1972, and our customers are quick to tell us how much they value our products and the service we provide. Needless to say, we expect to continue to live up to York County's kind recommendations. We hope you'll stop by and browse our Showroom when you are in Red Lion. Our staff would be pleased to answer your questions and show you around.