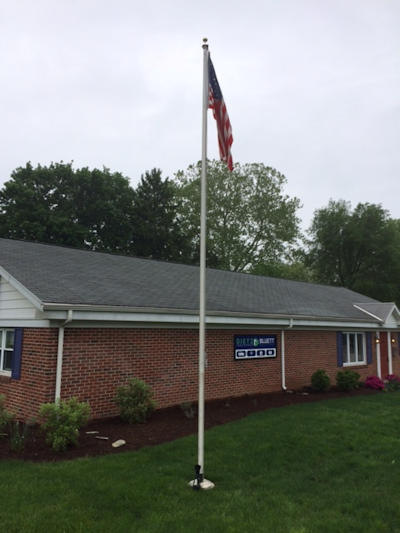 Since 1972 Security Fence Company has distributed flags, banners and flagpoles in honor and celebration of our country, our service men and women, and those who have sacrificed to keep our nation, the greatest nation on Earth, free.
As a thank you to all who have served, we hope you'll join us and many others in your community by proudly display the stars and stripes as we remember those who had made the ultimate sacrifice in service to their country.
A little known fact about displaying your flag on Memorial Day: Proper etiquette on Memorial Day is to fly the American flag at half mast until noon and then raise it to full height for the rest of the day! As always, the flag should be lowered at sunset unless it is illuminated at night.
You might already know that we must follow certain protocol when displaying flags, whether you're displaying the American flag alone or in combination with other flags. We thought you might appreciate these Guidelines from the U.S. Department of Veterans Affairs to help you properly display your flags, honor our country and thank our service members past and present.
If you're considering a flag display for your property, you'll want to have the right flagpole and accessories as well as the right flag for your space and purpose. You'll find the details you'll need on the Security Fence website. In addition to American flags, we stock POW/MIA flags, Pennsylvania state flags, flagpoles and all accessories for poles and display.
Still have questions? Our staff is always glad to assist. Just contact us at your convenience or stop by at our Showroom in Red Lion to chat in person and see our stock first hand.