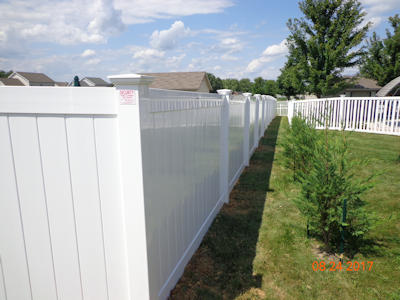 Does your back yard sit next to a busy street or within sight of a highway? If so, then you know how aggravating street noise can be; and you are likely annoyed when you can't enjoy a backyard get-together without being "on display". You might even worry about your children and pets being exposed to passersby as they play in their yard. If you can identify with any of these concerns, then you'll want to consider a privacy fence.
A Privacy Fence Reduces Street Noise
Typical street noise measures at about 60-70 decibels. A solid fence constructed of closely fitting panels along your property line at the road can reduce the typical street noise you hear in your yard by as much as 6-10 decibels, assuming it is tall enough to block the sound waves. A fence of at least 6-8 feet high should offer an effective change. However, balconies or higher-elevation structures would not receive the benefit; the sound would flow over the top of the fence. Likewise, if the fence is elevated from the ground, the tire noises will flow under the fence.
A Privacy Fence Affords Security
By virtue of the fact that a privacy fence blocks the view of your yard from the street, it offers enhanced security. Children and pets, in particular, can play without being noticed by anyone who might otherwise approach them or photograph them. Likewise, it contains pets and children who might be tempted to wander off the property if they see something that attracts them. In addition, if you have vehicles, equipment or other items of value visible in your yard, they will not be noticed by passersby.
A Privacy Fence Provides Increased Property Resale Value
A home sitting next to a busy road is obviously going to be less desirable than the same home on a private, quiet street with a back yard off the road. However, with all other things being equal, if that home on a busy road has an attractive privacy fence in place, it might well appeal to a family with children and pets for the extra security. Thus, your chances for a quick sale are enhanced.
A Privacy Fence Assures… Well, Privacy
We all have had our share of overly-friendly and nosey neighbors. This is especially true if you like a quiet swim in your backyard pool, like to enjoy cooking out with the family or perhaps just cherish time to sit in the shade and read without "those neighbors" dropping in to socialize just because they saw you out in the yard. With a privacy fence, you are out of sight – thus out of mind.

Privacy Fences Afford Unlimited Choices
Given the many different sizes, styles, colors, and materials that can be used to create your privacy fence, it can be crafted to fit your home, landscape, and circumstances perfectly. If you're ready to explore the many choices you have for your own privacy fence, it's time to bring in an experienced fencing consultant to help.
Here at Security Fence Company, our seasoned staff knows everything that you need to know about fences. We'll take a look at your property, discuss your needs, and help you explore your options to arrive at the perfect privacy fence for your home. Why not Contact Us today to get your questions answered and discuss your project? We're waiting to hear from you.