Whether you'll be working with a decking contractor like Security Fence Company or doing your own deck construction, you'll have many questions to answer before your deck project plan is complete.
Have questions or want to discuss your project? Contact our Office…
Among other things, you'll need to decide how well the deck you are planning will enhance your property, the dimensions of your completed deck, and the location of the deck relative to your house. Here are some guidelines to get you started.
Reflecting on the Appearance
Adding a deck to your property will enhance your property value, but under-improving or over-improving will not serve you well regarding return on investment when you sell your property. Appearance is important since your deck should reflect the style of your house and look as much as possible like it has been there forever. To get a good idea of appropriate choices in overall appearance, decking materials, sizing, style, landscaping and more, take some time to look at other decks in your neighborhood and perhaps speak to your neighbors who have made a similar investment.
Need more details? Check this out…
Deciding on the Size of Your Deck
A deck that is in proportion to your yard – neither too large or too small – will offer the most use and enjoyment, going forward. Start by sketching your yard and penciling in the deck. Change it as needed until you arrive at the best sizing solution. Don't forget to consider the standards imposed by local codes regarding the limitations of deck size and how much yard space must be preserved between the deck and the property line.
Choosing Deck Placement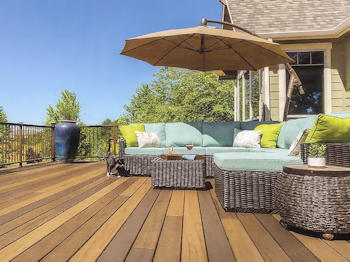 Depending on the size and topography of your lot and positioning of your house, you might have more than one option in the location of your deck. Assuming you have some flexibility in where you place your deck's access to your home, consider – in particular, traffic patterns. It might seem most logical to position your deck to offer access through your kitchen door, but can your kitchen layout handle the traffic through the food preparation area? Would it be better to consider access through a living area such as the family room where the layout is less constrained and the option to have a wider doorway like french doors or a slider might be possible? The latter access choice would also likely offer better access to a bath or powder room – important if you'll be entertaining on your deck often.
Protecting From the Elements
You'll need to consider exposure to the sun and how you can make use of natural shade from surrounding trees or your use of the outside living space won't be nearly as enjoyable. Wind could also be a factor, so think about how deck placement can minimize it.
Here at Security Fence Company in Red Lion, PA, our knowledgeable and experienced staff can answer your questions and help you explore your decking options so that you choose just the right type of decking and railings for your property and lifestyle. Why not call or e-mail us at your convenience to discuss how a new deck can improve your property and enhance your lifestyle?
If you prefer, you can visit our showroom in Red Lion, PA so that we can better explain how the decking material of your choice can enhance your home's property value.