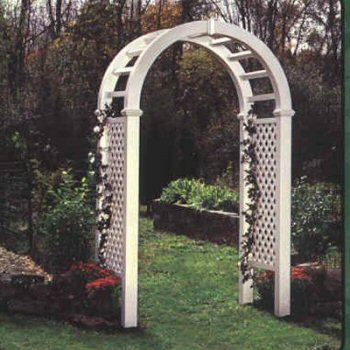 Arbors come in many sizes, colors, styles and materials; and they can serve many purposes. So you should find several options to meet your landscaping needs. Before choosing your arbor, be sure to decide how and where it will be used.
Will it be incorporated into the structure of your garden, designed to serve as the framework for plants and shrubs – maybe as a focal point with vines climbing up and over. A deep arbor might work best in this instance – perhaps offering enough room for seating. You might use pavers underfoot to define the space, with plant material offering screening above.
Will it be used as part of the landscaping perimeter? Often an arbor can further define the edge of your outdoor space and might even be paired with a gate for this purpose. This is often done by fitting the arbor in an opening in a row of flowering shrubs.
Will your arbor be the visual entrance to your garden – often combined with a pathway. Sometimes the pathway will begin at the arbor and stretch into the garden. In other cases, a path might lead up to, under and past the arbor.
The color of the plant material and other garden accents will determine the color of your arbor once you decide if it should stand out as a focal point or recede into the background. A lighter color arbor will usually blend well if it will supporting flowering plant material, whereas shrubs will best blend with a darker color.
Arbors are constructed of a variety of materials – from wood to ornamental metal to the no-maintenance PVC options. Much depends upon your other landscaping options, but these days PVC can be of many colors and textures which might well blend with other accessories.
Whatever your choice, you will find that an arbor will add versatility and a touch of beauty to your outdoor space.
Our experienced sales representatives here at Security Fence Company in Red Lion, PA, can show you our selection of arbors and many other items to enhance your outdoor space. They'll answer your questions and help you decide what works best for your circumstances. So CONTACT US at your convenience to get the details.