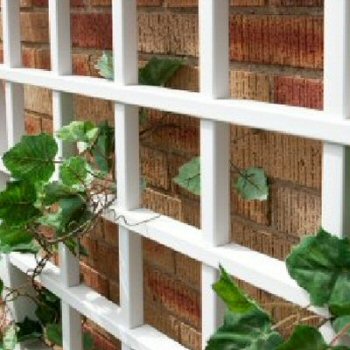 Whether you want to create a living wall of climbing vines, a splash of color to break up a wide expanse of boring exterior wall, a means of privacy, a vertical garden or something else, you will find that a trellis can make your job easy.
If an area of your yard needs more color or visual interest, then place your trellis near a wall or section of your fence. Be sure to leave space all the way around the trellis to allow plants to climb and grow their way up around the slats.
When you add a trellis to your landscaping plan, be sure to choose colors and plant types for the trellis that are repeated in the surrounding outdoor space such as flower beds and containers.
In fact, growing plants in containers placed at the base of a trellis will offer more ground area and expand your garden vertically for an entirely different appearance. This can be done with evergreens, blooming plants and even vegetables. Evergreen plants require a minimum of maintenance, offer the best privacy because of their dense growth; and many are self-climbers that do not require you to attach them to the trellis. Blooming plants – whether annuals or perennials – offer colorful splashes as they climb but often require you to attach them to the trellis to start the climbing process. Vegetables can also be grown vertically with the help of a trellis, especially cucumbers, beans and tomatoes to allow you to increase your garden's yield; and, when they die off in the fall, you can replace them with blooming plants.
Freestanding trellises are very useful for setting apart or defining the sections of your yard. For example, to offer privacy to an outdoor sitting area or a pool or pond, add one or more trellises with plant material that blends with the landscape and is dense enough to obscure the view.
Trellises can be found in a variety of colors, styles and materials. They can be made of wood or ornamental metal such as iron or aluminum. However, if maintenance is a priority for you, then consider the many shapes and sizes of PVC trellises to meet your needs.
Here at Security Fence Company, our sales people welcome the opportunity to help you explore your choices, learn about using trellises and decide on the right one for your landscaping needs. Why not CONTACT US at your convenience to find out how we might help you and/or to request a Quote?