Many times our customers are searching for beautiful, private, outdoor entertainment areas for their homes. Security Fence Company's expertise and full line of products makes us a single source for all your needs. Take, for instance, Mr. and Mrs. John Biancolli of New Freedom, PA, who were pleased with the way we met the complete package requirements for the Biancolli's outdoor paradise.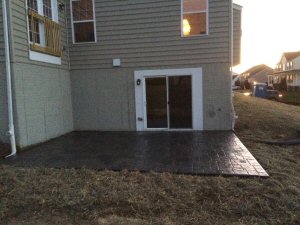 We began construction with a gorgeous stamped concrete patio for the lower level. This area is not only dry and functional, but it was structurally designed and built to support the deck, steps, and screened-in porch above it.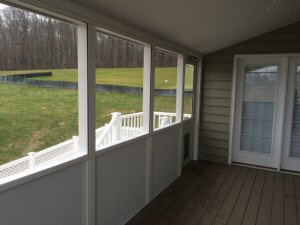 Another important addition to the project was to include a doggie-door exiting the screened-in area for their three dogs.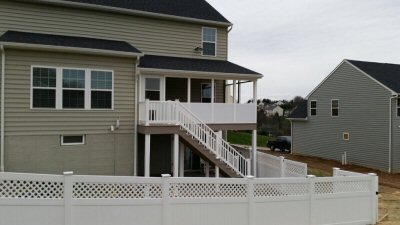 Utilizing all maintenance-free materials, Security Fence Company, in conjunction with Private Paradise Contractors, built the perfect place for outdoor living. Having the deck with a roof, screened-in area and the patio below allows for large gatherings in a small area.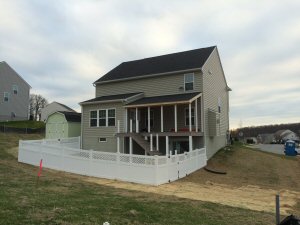 The backyard was then enclosed with a PVC privacy fence to create a private space on their property regardless of lot size and neighbors. The Biancolli dogs now have access to a safe and secure yard to romp and play in.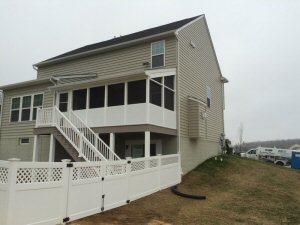 Mr. and Mrs. Biancolli can't wait until Spring to start enjoying their new private and secure outdoor habitat. They were gracious enough to express their gratitude to Security Fence Company for handling the entire process from planning, designing, obtaining permits, construction and inspections. They commented at how impressed they were with the professionalism of the workers and the attention to detail. Work was completed and we received final inspection and approval in January of 2016.