What a way to create useful outdoor living space for minimal cost!
This particular job required Security Fence Company to remove existing walls on a poorly built 8' x 20' addition.
After installing new Security Fence Co PVC structural support posts, adding a high quality auto-closing screen door and installing AZEK maintenance-free trim, our customer now has a beautiful and useful screened-in porch adjacent to their Security Fence Co deck.
The renovation allows them to relax, dine and entertain outdoors, free from the nuisance of bugs and direct sunlight.
In our customer's words...
Thanks so much for your design and construction of our screened-in porch. Your crew at Security Fence was top notch and your recommendation to add recessed lights and a ceiling fan let us use our porch well into the night – bug free! Great job!
--- M.M., Heritage Hills, York, PA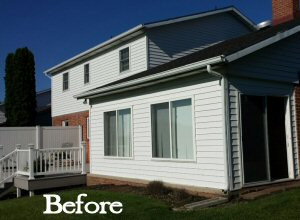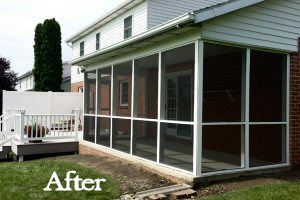 Our experienced sales representatives welcome the chance to help you solve your renovation and landscaping problem. We listen to you and then offer solutions. If you think we might help you improve your home and the outdoor space around it, why not CONTACT US to discuss your options.