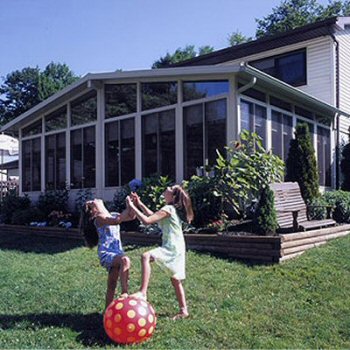 You might hear the Sunroom called by another name such as conservatory, solarium, Florida room or something else. No matter the name, the sunroom is a glassed-in living space typically attached to the house and accessible from indoors. It is designed to function as additional living area to let you enjoy lots of sunlight and fresh air. Moreover, Remodeling Magazine reports that "the resale value of a sunroom averages 89% - 115% of original cost" making it an excellent investment for most homeowners,
The most important decision you'll have to make when planning a sunroom is its location with respect to your home, and also considering the climate in which you live.
If your home is in the southern climate where temperatures are higher, an eastern exposure will help keep the room cooler since it will get more direct sun in the morning and shade the rest of the day. In northern climates, however, if you expect to use the sunroom often in the afternoon or early evening into the spring and fall, an eastern exposure might cause the room might to be chilly.
In the cooler temperatures of northern climates, a southern exposure is typically sought because it will receive the most sunlight each day. Whereas, in the heat of the southern climates, the sunroom with southern exposure might require air conditioning to create a comfortable living space.
Whether in the South or North, a sunroom with western orientation will typically be exposed to harsh afternoon sunlight that will need to be shaded.
In the North, a sunroom facing north will offer partial shade most of the day which can cause the room to be too cool and damp. However, in the warmer southern climates, a sunroom with a northern exposure would likely eliminate the need for shading or air conditioning.
Here at Security Fence Company in Red Lion, PA, our experienced representatives can help you explore your options – from location, elevation, materials used and more – to arrive at the perfect sunroom solution for your home and lifestyle. Why not CONTACT US today or GET A QUOTE at your convenience.